Interview: Mark Berkowsky, Architect and Builder
This interview was conducted by Tramp Steamer Media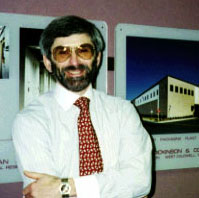 Mark Berkowsky is president of Berkowsky And Associates, an architecture and construction firm in Princeton, N.J. He joined the company in 1978, when is was S.T. Peterson & Co., a building contractor expanding into architectural services. He started the company's in-house design department, advanced to become its president, and purchased the firm in 1990.

Berkowsky And Associates specializes in the design and construction of commercial and industrial projects, including both new and renovated buildings. The company has developed office buildings, manufacturing facilities and laboratories for companies such as Cosmair, Inc., Johnson & Johnson and American Cyanamid.

Mr. Berkowsky received his Bachelor of Architecture from the Rhode Island School of Design in 1969. After graduating, he joined the firm of Walker Sander Ford and Kerr, a general architecture practice.
Q: What made you want to become an architect?
That's a tough question. I evolved toward it. I guess I had a bent toward the artistic, but also an aptitude for the technical side. In high school, I had an interest in industrial design, and architecture was the same kind of thing except you built an environment as opposed to a physical product. So, it was more technical ascetics than the traditional concept of "Well, you're good in art, you're good in math, so architecture is the right career for you."
Q: Could you describe a typical day?
Sure. I think it probably breaks down into two parts. One is managing: relating to my employees, project architects and project managers. I look over their shoulders, see what they're doing, make sure they're doing a good job, provide a little support when questions are asked and when answers are needed. Sometimes I answer them, sometimes I point them toward an answer.

We're a design and construction firm. There is an architect assigned to every project who is the decision maker for architecture on that project. I really have delegated that. I don't personally sign off on every design on every project. It's the project architect who has that responsibility. I'm there in an oversight capacity, to make sure time limits are met, that sort of thing.

The other side is outside the office. I spend a lot of my time relating to clients, both existing clients as well as prospective ones, trying to get new business. Half of my time is really spent on marketing.

One of our successes is we're small enough that I can personally know what's going on with every project. Clients feel that they can call me. I'm typically not the first line of communications, but the second. Still, clients know there's always somebody to call - and the owner of the firm, at that - and that does provide a comfort feeling. So I have to be with clients, talking to them, reviewing projects, going to the project meetings. I spend a lot of time at meetings.
Q: What is the best part of your job?
Probably getting a job and then walking into the building when it's completed with a happy owner. And then getting a call back a few years later to do the next one, because they've been happy with what they've seen in the initial project, as well as what they've lived in for a couple of years.
Q: What's the hardest part?
When we fail: When we do not meet the time commitments - which are always big with clients - or where the construction doesn't meet the client's expectations, whether it's a roof that leaks or a laboratory that doesn't function properly. Losing a job doesn't affect me that much. You can't get them all. It's when you have a job and you're not successful with it. That's where the downfall is. We're not perfect - no one is. I get disappointed when we haven't done the job that we should have done, and I know we can do better.

Another thing that can be frustrating is when solutions don't come quickly. Design is an ongoing process. Unless you have an end dates, you can always make a design better. I do a lot of things concurrently. Therefore, my patience level is short, and I tend to design more quickly. But design is not a quick process. I think it's difficult for me when I'm actually doing design work - which isn't often anymore - to take the time that design requires and to go through the process.
Q: What was the hardest part of becoming an architect?
The hardest part is probably what you don't learn in school. Unfortunately, I think this is true with all professions. There are just not enough years.

The schooling is difficult because a lot of the subject matter is creative. It's not reading a book, comprehending the material and then being tested on it. It's being given a written program and then developing a design to satisfy that program. With that, there isn't a right or wrong answer. Your fellow students are all going through the same process - coming up with different solutions and it's just a question of how good or how bad they are, not whether they're right or wrong.

What you learn in school are the very basics. I went to a school that was very art-oriented, so when I graduated, I didn't have a lot of technical training. Also, there was no schooling about communications - personal relationships - both within a company and when dealing with clients.
Q: Is being an architect as you imagined it would be?
I think it is. When I miss something now, it's because I'm running the business side. There are times when I miss the creative side. When I have a creative opportunity in developing a project, seeing it to fruition, it kind of rejuvenates me.
Q: Are you glad you became an architect?
I very much am. Again, like everyone else in their job, I have highs and lows. For the most part, I'm on a high right now because I'm personally involved as an architect on a project, so I'm involved in the creative side of it. I see success coming. I have a good relationship with the client. If that continues to the end of the project, then I'm sure I'll really be glad.
Q: What do you think students need to know about being an architect? In other words, how do you think their perception differs from the reality?
Architecture probably doesn't have as much of the ascetic and creative bent as most people perceive. Yes, it's creative. But you still have to develop plans and then build. There's so much on the technical side: the structural, the mechanical, the electrical engineering. It takes all these disciplines to make for a successful project.

There are three roles involved in the construction process: The architect, the engineer, and the contractor. The architect is normally the team leader of those three. The architect is also the lowest paid of those three. That's something to be aware of.
Q: What advice would you give to someone who wants to become an architect?
I think the people who are most successful are those who have had the opportunity to do hands-on work while they're going through their formal education.

Unfortunately, when you get out of school, you're really not useful in a firm until you can do some kind of hands-on work. So, the first thing you have to do is learn the nitty-gritty side, the technical side: preparing the construction documents, being in the field, understanding the mechanics of construction, getting beyond the design and understanding what's going to make it happen. It's one thing to put lines to the paper, but I think many times architects forget that design is a means to an end, not the end itself. Creating a set of drawings is not creating the product. The product is the structure of the building after it's all done. So, you're just a conduit to take the requirements of an owner and translate them to a builder who actually constructs it.

Working either while you're in school or during the summer broadens your education. You're into it 100 percent, and that gets you into the career much more quickly.
Q: Is that a reasonable thing for a student to expect? That they can get a summer job in an architectural firm?
I think so. I have one student now who started with us when she was going to a county college. She came to us as a junior draftsperson, just worked with us extremely well, then started in a night school. A lot of students work during the day and go to school nights. It's a long, hard road but when they're finished, they're tremendously valuable, because they have both sides - academic and experience.

This person is now going to school full-time, and works with us on vacation breaks and during the summer. I want to keep that going because I know when she graduates, she's going to have better than five years of experience. She's ready to go, way ahead.
Q: How about high school students?
We have had high school students, and they've been successful with us. Typically, they'll come in and run blueprints, do filing. We like to help students. We usually try to always get one summer student, be it a high school graduate or senior who is looking into architecture.

I think most firms are more than happy to have a student come in. A lot of it is running errands, but you can still get a flavor for what's going on.