---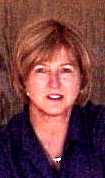 Terry Fencl
A Quick Biographical Sketch
---
"They" say that for many of us the fear of public speaking is greater than the fear of death--Or even computers! My goal in my speech classes, which I've taught at Triton since 1980, is to help students successfully meet their SPE101 requirement. Students should leave the class capable of efficiently and confidently puting together any presentation for school or work without being overwhelmed by fear or anxiety.
In addition to speech classes, I also teach theater and mass communications. With a Ph.D. in communications, I've spent a good deal of time being a student (when I haven't been on the tennis court or golf course). I try to bring to my classes a sensitivity to the needs of studnets who are pursuing their education while trying to juggle and balance a lot of competing priotities.
I have been actively involved in distance education at Triton. I have taught both the speech and theater courses over the electronic television network. My classes were comprised of students from Triton and Morton College and College of DuPage who met together for the entire semester using live, interactive television and audio. Currently, I am teaching a web-based theater course.

---

Send mail to:Dr. Fencl

Return to The Undergraduate Center