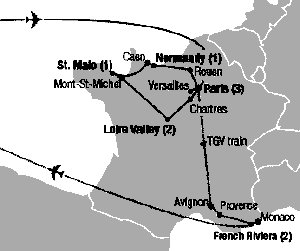 TOTAL COST:
• $1365 for students under 25
• $1610 for students 25 or older
(plus approx. $60 tuition for HUM296 course)

PROGRAM FEE INCLUDES:
• Round-trip airfare
• 9 overnight stays in hotels with private bathrooms
• Continental breakfast and dinner daily
• Full-time bilingual EF Tour Director
• 4 sightseeing tours led by licensed guides
• 12 visits to special attractions
• 1 walking tour and 2 sightseeing briefings


Day 1-2: Arrive in France – Paris
Fly overnight to France and meet your EF Tour Director on Day 2. Stroll through the Tuileries on our EF walking tour and pass through Place de la Concorde, where the guillotine once stood. Next, you'll pay a visit to the Louvre, home to da Vinci's Mona Lisa.

Day 3: Paris --Versailles
On your guided tour of Paris, see the massive Arc de Triomphe and visit Notre Dame. Snap a photo of France's national symbol, the Eiffel Tower. Across the Champ de Mars, you can see the École Militaire, where Napoleon received his military training. Journey this afternoon to Versailles, Louis XIV's showplace of palatial luxury. Versailles served as the capital of the French monarchy until the Revolution, when Parisians demanded that their king and queen live among the masses.

Day 4 - 5: Loire Valley
Visit the 13th-century cathedral at Chartres en route to the Loire Valley and pass by Chambord, the area's largest château. On Day 5, tour the Château de Chenonceau-nicknamed the Palace of Romance-and Amboise, where Leonardo da Vinci is buried. Attend a wine cellar presentation and then take in a Sound and Light Show at Azay-le-Rideau, an elegant Renaissance castle set on an island in the Indre River.

Day 6-7: St. Malo – Caen
Continue on to Brittany's Atlantic coast. Visit the islet monastery of Mont-St-Michel, and stop in St. Malo, once a pirate outpost. On Day 7, pay tribute to WWII soldiers at Caen's Mémorial and see the Normandy beaches where the Allied invasion took place.

Day 8: Rouen – Paris
A local guide relates the history of Rouen, where Joan of Arc was burned at the stake during the Hundred Years' War. Return to Paris for one last night.

Day 9: Depart for home.